ABRAHAM Mankponsè Samuel
AOC CEO BACKGROUND
Alias COACHAMS, ABRAHAM Mankponsè Samuel is an African native of Ouessè Wogoudo (Region of the Hills; Republic of Benin; Francophone West Africa).
In matters of Faith, he is a disciple of Jesus of Nazareth. He is not religious, therefore not confessional, but a man of Faith as required by God. The Christian Bible is the one and only reference of COACHAMS and not the statutes and internal regulations of Christian denominations. Feel free to establish a spiritual relationship with him if you want to deal with theocracy and not with theology.
In 2004, while learning English didactics at the National University of Benin officially known as the University of Abomey-Calavi, he was recruited to teach English as a foreign language in colleges in Benin country.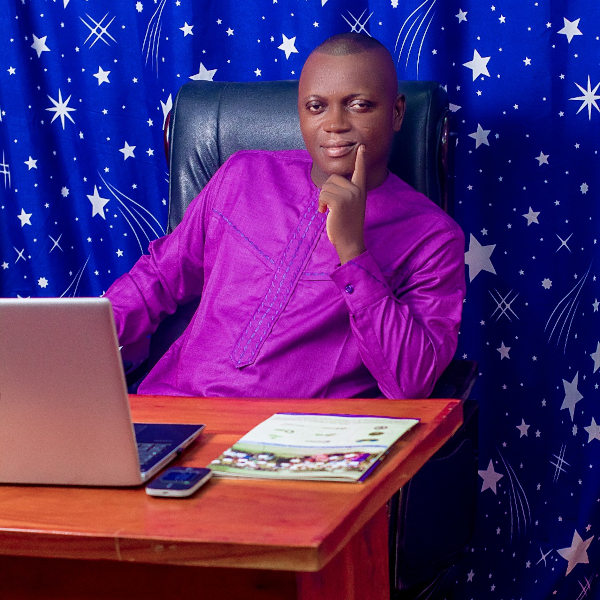 As a person naturally full of creativity and passionate about ICTs, and after discovering in September 2016 the power of individual and collective freedom in monetary, financial and economic terms residing in the cryptocurrency Bitcoin and the associated Altcoins, of the Blockchain and Web-Entrepreneurship, ABRAHAM Mankponsè Samuel definitively left the public service in 2018, which he considers to be the way of monotony, slavery, unnecessary difficulties, misery, begging, the killing of talents, running without end to indebtedness because it forces the civil servants to eat the future in the present,…,
Today, on terms of justice-focused financial freedom and monetary decolonisation of people and nations exponentially deprived by the international elite, ABRAHAM Mankponsè Samuel is a popular person who speaks on the issues of humanitarism, collectivist and non racist Pan-Africanism, Web-entrepreneurship, Blockchain and cryptocurrency via:
Beninese newspapers : Afrique en marche, Nouvel Observateur, La Dépeche, Point Média,…
Beninese radio channels : ORTB, Radio Planète, Océan FM, Diaspora FM, Radio Tokpa, Radio SOGEMA, Radio Wèkè, GERDDES FM, Radio Bénin Culture, Radio KPASSE, Radio Lokossa, AHEMEY FM, Royal FM, Collines FM, Radio Cité, Radio Ouessè, Urban FM, Radio Fraternité, Radio ARZEKE,…. )
Beninese television channels : ORTB, CANAL 3, GOLF TV AFRICA, BB24, SIKKA TV,…
The pan-African television channel : AFRIQUE MEDIA.
The French television channel : TELE SUD
Under the inspiration of God, 2019-2020, he founded NGO Free Africa and the World and the start-up Alpha Omega International Company Ltd via which, late in January 2021, he has launched against the plan of the antichrist the cryptographic currency AOC (Alpha Omega Coin) .
To find out more about him, search in Google: ABRAHAM Mankponsè Samuel or COACHAMS.
As per your own, continue reading for more details about Alpha Omega Coin in order to decide whether to become a Co-Visionary Member (CVM) or not.
Happy reading and good decision making.